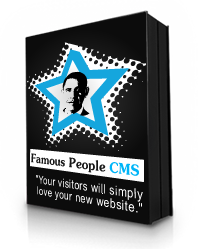 Famous People CMS is a must have in matters of content management systems! It is a wonderful platform for managing your very own database of celebrities.

Do you have data about celebrities that you would like to store, sort, look through and so forth?

Do you get frustrated by how difficult it is to handle that information without a proper content management system?

Well, Famous People CMS is the ideal choice for you. It allows you to add, edit and even rate your celebrity information with great ease.

Friends are the most valuable asset in this world-they make you laugh, they make you cry, but most of all, they're there for you every step of the way. That is why you can never say you have enough friends. We hold this to be a truth of life and because we care, we have created Famous People CMS so that you can build a community of people who could easily become friends or contribute to the growth of your website.

You know you're a star when you officially have fans. Why should only Hollywood stars enjoy this privilege? We think anyone who has worked on putting their preferences and likes out there should be given the same opportunity. So don't be shy to shine and allow your fans to enjoy your work.